ICE virus (also called as The Cyber Crimes Center virus) is a dangerous ransomware, which must be ignored and eliminated from each of its affected computers. You can distinguish this virus from a huge notification, which lists various crimes and requires to pay the fine of 400 dollars or other reasonable amount of money. Typically, ICE virus mentions the distribution of pornographic files, the use of copyrighted content and similar crimes. While it may seem that this is an official notification from a governmental organization, it's just a typical scam that must be avoided. In order to trick its target PC users, ICE virus starts its activity by blocking the whole system down while there is no such governmental organization that blocks PCs to collect their fines. The real owner of this cyber threat is a huge group of cyber criminals that use different versions of such viruses for trying to rip people off. You must remove ICE The Cyber Crimes Center virus without any delay.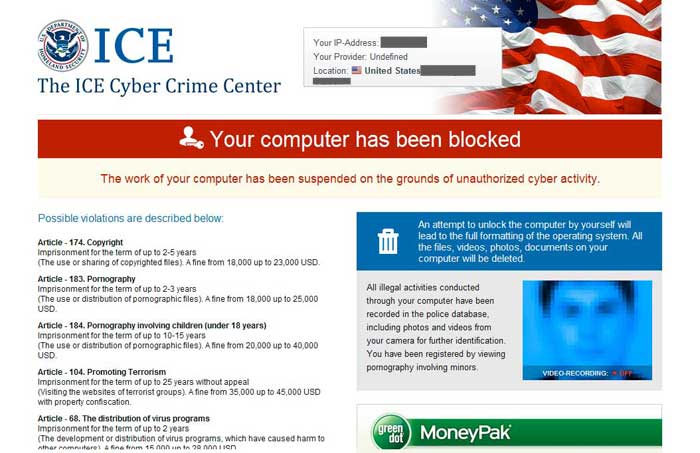 HOW CAN I GET INFECTED WITH ICE VIRUS?
ICE Cyber Crimes Center virus, just like Your computer has been blocked virus, is distributed via trojan horse. Mostly, users download this infection together with unofficial programs and their updates that are spread on illegal websites. Besides, misleading emails that also pretend to be sent by this official organization can easily let this trojan inside. Once it gets there, this dangerous threat blocks the whole system and downloads those files that are needed for ICE virus. SO, it can be said that ransomware takes its target PC a hostage and then replaces desktop's screen with a message that claims something like that:
An ounce of prevention
At a bare minimal, always maintain a backup copy of any important files on your computer. Infection with this virus could require a complete wipe of the system and reinstallation of software to the factory settings. Depending on the number of apps on your system, this could be a labor intensive process that could cost an easy $200 for a technician to restore the system.
As a preventative measure, we suggest having an IMAGE of your system made, using one of Richmond Computer's imaging tools.The image is made by our software, and would be stored on a series of DVDs or external USB drive.
For a consultation on the state of your system's backup, please contact Richmond Computer at (215)634-2997 or sales@richmondcomputer.com